A Moving Story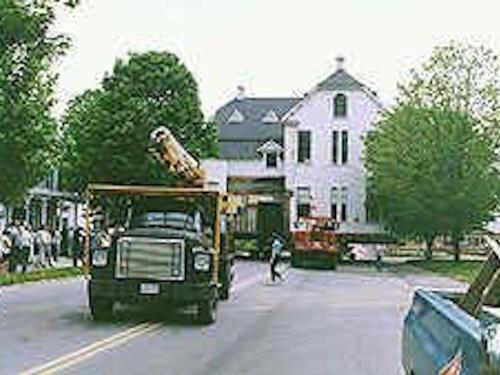 The Chambéry Inn is the result of a monumental preservation effort which began in the fall of 1988. Once a financial nemesis to a local parish, the building's fate of demolition was imminent as reported in a Berkshire Eagle article entitled; "Old St. Mary's School in Lee is Candidate for Wreckers Ball ." Constructed in 1885, as the Berkshires first parochial school, its usefulness to the parish ended in 1957 when a new school was built. Knowing of its certain demise, a Lee businessman and lifelong resident, stepped in to save this historic landmark from destruction. Agreeing to immediately relocate the 300-ton structure, it was moved one block to its present location at the corner of Main and Elm Streets in Lee. After months of pondering the best use for the imposing orphan, the idea of a European-styled country inn struck and The Chambéry was born.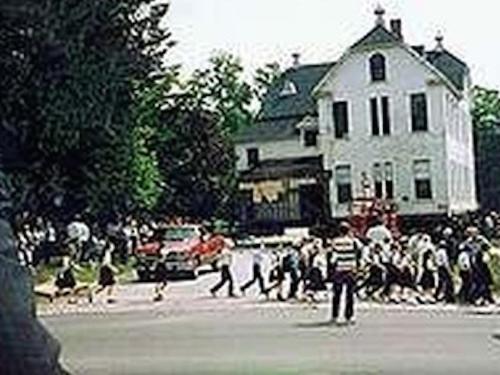 Chambéry, France-(hence the Inn's name)-is the native city of the teaching order of The Sisters of Saint Joseph. This small group of five nuns from the order, arrived at Lee's train station (across from the Inn) in the summer of 1885 to teach six grades of young American students. Only two of the nuns could speak English at the time. Building of the school was made possible through the effort and generosity of Jane Sedgewick, of the politically and socially prominent Sedgewick Family of New York and Massachusetts, and a convert to the Catholic faith. Miss Sedgewick labored for many years to establish a parochial school without success. Only after an audience with Pope Leo XII in 1880, was permission granted. " This is the work of GOD daughter, and I say to you, persevere in spite of all obstacles" were his words and blessing to the persistent and courageous Sedgewick.
The Town That Stood Still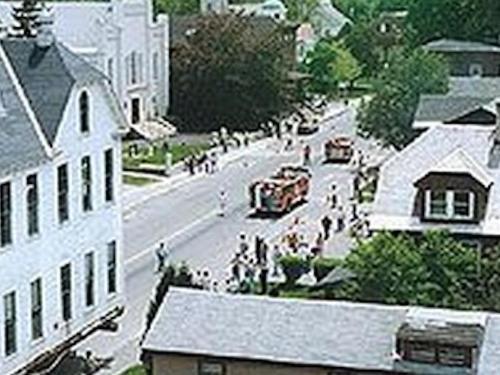 On May 23, 1989 the old St. Mary's School rolled off its sturdy marble foundation to travel to a new resting place, one block North, at 199 Main Street. The small town of Lee, the quintessential "Hometown America" hamlet, nestled in the world-famous Berkshire Hills, literally stood still. The new St. Mary's, built in 1957, released its classes to witness the event. Curiosity seekers, journalists, proud "Old S.M.S" Alumni, clergy, small town politicians, nay-sayers, well wishers, tree trimmers, utility pole movers and amateur photographers all played a part.